Ambitious project and long post.
I made this for a teacher, in school cause he liked comicbooks a lot. I think he actually uses it to teach a little now. Don't remember what though.
When I started it my sister was there and it quickly turned into an assignment where we'd have three different characters from comics and they all had to do something together.
I chose Grupert by Moebius, as the first one. Sadly I don't know much about him but my teacher requested him. I think he is an explorer.
Second one was Gaston Lagaffe by Franquin or as he is known in danish "Vakse Viggo". I have always liked him and his office antics. Especially the "messy" and blackish drawingstyle.
Third one is Stitch by Chris Sanders. I enjoy doing the round edges on this guy.
The "Musical instrument" is the Gaffophone. A particularly noisy and destructive piece of equipment. Gaston is trying to explain it's artistic genious to poor Grupert as Stitch is awfully close to pulling the strings. It should be said that the vibrations can knock down walls in the Gaston comic.
It is made with a pencil outline for the sketch and then the dots are filled in. It took a week to do since the paper is A3 and the dots are made with 0.2 pen.
Below you can see the picture slowly filling with dots for shadow.
Started with Stitch and moved down the Gaffophone. It was very fun to do the tuning things at the top.
Had to get a ruler for the strings. They had to look like they are about to burst.
Was not very satisfied with Gaston in the start but he turned out great when I got to his hair.
Grupert is a lighter drawing than the rest. Had to be careful to not make his light shirt too dark.
Last touches and the signature.
The finished drawing: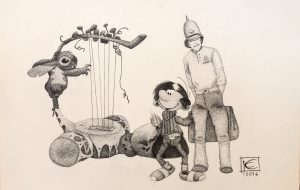 Bonus Info:
My father was not very happy that I gave it away, so I made him a similar one.
Materials:
A3 paper
0.2 black pen
Pencil for sketching